DIY Face Mask Tutorial – 3-Pleat Surgical Style with Filter Pocket
This tutorial given is to make a 3 pleated surgical style fabric face mask with filter pocket, you can insert face mask filters
into the mask for better protection. Let's start to make your face mask at home by following below instructions. (Be noted: fabric face mask is not effective as disposable surgical mask, if you will go to crowded place and high-risk place (e.g. hospital), it is recommended to wear surgical mask, rather than fabric face mask).
Material and tools requires:
Fabric
Elastic bands x 2 (Length: adult – about 165mm / kids: about 115mm)
Sewing machine (if you don't have this, just prepare sewing thread and needles)
Few sewing pins/sewing needles (for fixing fabric when sewing)
Scissor
Wire for mask (Length: 10mm – for nose bar)
Ruler
Pen
RELATED POST: What's the best material for a DIY cloth face mask for COVID-19?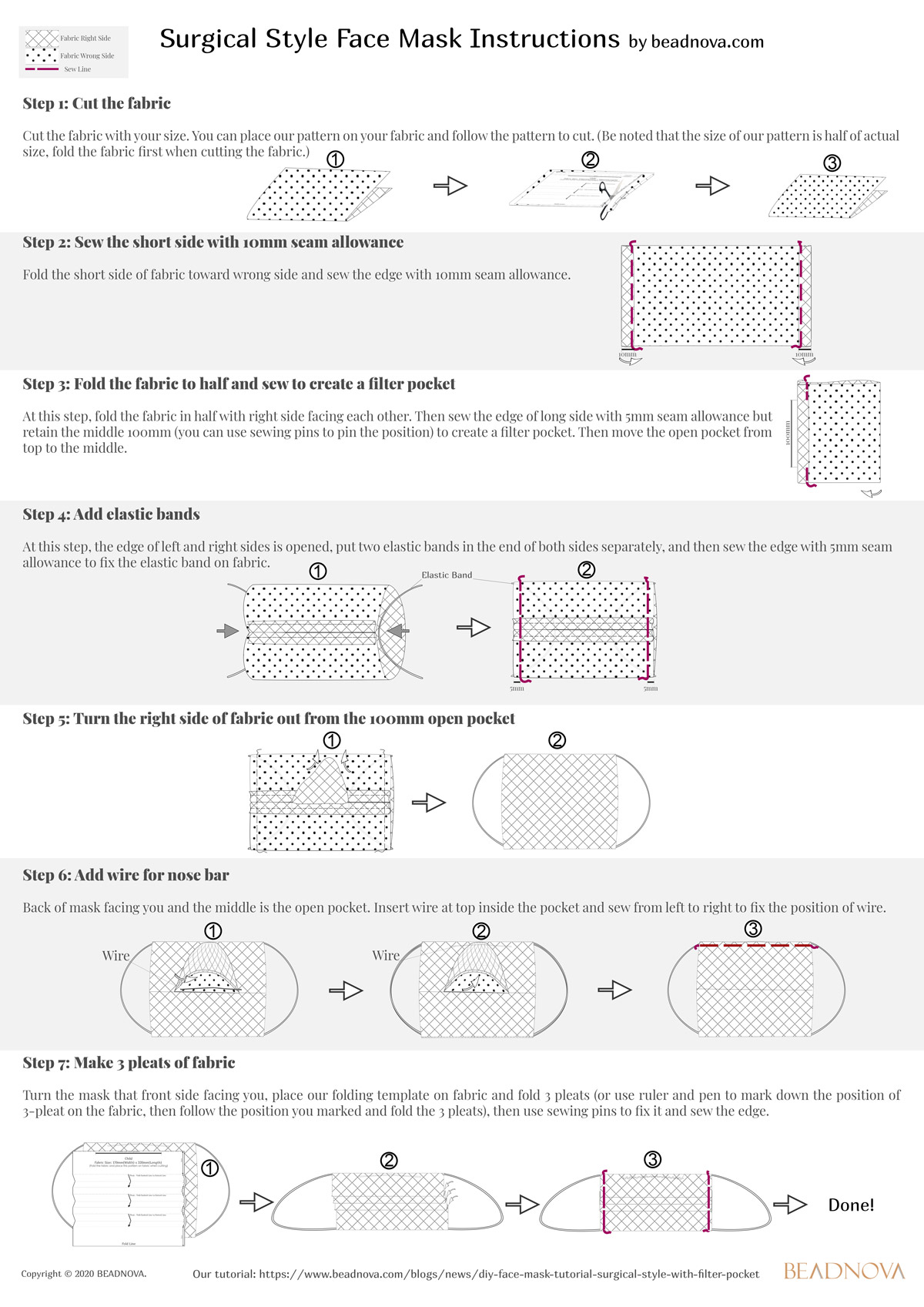 Text version
Step 1: Cut the fabric
Cut the fabric with your size. You can place our pattern on your fabric and follow the pattern to cut. (Be noted that the size of our pattern is half of actual size, fold the fabric first, then the fabric.)
Step 2: Sew the short side with 10mm seam allowance
Fold the short side of fabric toward wrong side and sew the edge with 10mm seam allowance.
Step 3: Fold the fabric in half and sew to create a filter pocket
At this step, fold the fabric in half with right side facing each other. Then sew the edge of long side with 5mm seam allowance but retain the middle 100mm (you can use sewing pins to pin the position) to create a filter pocket. Then move the open pocket from top to the middle.
Step 4: Add elastic bands
At this step, the edge of left and right sides is opened, put two elastic bands in the end of both sides separately, and then sew the edge with 5mm seam allowance to fix the elastic band on fabric.
Step 5: Turn the right side of fabric out from the 100mm open pocket
Step 6: Add Wire for nose bar 
Back of mask facing you and the middle is the open pocket. Insert wire at top inside the pocket and sew from left to right to fix the position of wire.
Step 7: Make 3-pleat of fabric
Turn the mask that front side facing you, place our folding template on fabric and fold 3 pleats (or use ruler and pen to mark down the position of 3-pleat on the fabric, then follow the position you marked and fold the 3 pleats), then use sewing pins to fix it and sew the edge once.
Step 8: Sew all the edge to keep the shape well (Optional)
You can sew all the edge once on right side of fabric to keep the shape well, this step is optional.  
Your mask is done! For better protection, you can insert your surgical mask
as a filter or face mask filters
into the fabric face mask.
RELATED POST: How to make a fabric face mask (different types of face mask tutorials)
Download PDF
Free Simple Pleated Face Mask Pattern  – This mask pattern is also a folding template, it should be more convenient for you to make the mask. Download below mask patterns and start to make your own mask.
Note: Before printing out, please follow the printing instructions to ensure the scale you print is correct. Scale of each mask pattern is for reference only. Face shape of each people are different, you can adjust the scale to fit your face shape.
Teens & Adult-SurgicalStyleMaskPattern03 (pdf file)
Child-SurgicalStyleMaskPattern03 (pdf file)
SmallChild-SurgicalStyleMaskPattern03 (pdf file)
Instructions –  gather all steps with pictures (pdf file)