As an Amazon Associate, we may earn commissions from qualifying purchases from Amazon.com.
Know more
.
Drip irrigation system tools are crucial for the success of your DIY drip irrigation project. You will need drip irrigation emitters, drip irrigation connectors, and other drip irrigation system parts, among other tools and components. A drip irrigation system offers many potential benefits to the environmentally-aware farmer:
Disease risk is reduced – Drip irrigation, unlike overhead sprinklers, keeps the foliage dry, lowering the occurrence of powdery mildew and other diseases that thrive in damp environments.
Financial benefits – A well-designed drip irrigation system is more efficient, which means your monthly water bill will be lower.
Superior weed control – Drip irrigation methods deliver water to the plant's immediate surroundings. Weed seeds are deprived of water as a result, and their germination is inhibited.
A genuinely adaptable system – Drip irrigation systems can be used on any soil type and even most unleveled landscapes when correctly set.
Control over appearance – If you're concerned about the look of the drip irrigation method, a layer of organic mulch can readily hide the tubes.
What Are the Essential Drip Irrigation Tools to DIY Drip Irrigation Systems For Garden?

Drip Irrigation Kit
Drip irrigation is a clever and cost-effective approach to save water, boost plant development, avoid fungus and illnesses, and a host of other advantages. Drip irrigation kits are the quickest and easiest way to add drip irrigation to your deck or garden, whether you have a few potted plants or run a large farming operation.
Each drip irrigation system kit includes everything you'll need to get started growing whatever you're producing. For example, if you want drip irrigation for your raised beds, these kits will take care of everything from your tap to your crops.
Indoor kits for greenhouses and grow houses are available and outdoor kits for everything from a single plant to grow crops. Sprinkler-to-drip conversion kits are also available at a variety of specialist stores.
Fittings
You'll need the correct fittings to connect drip lines, tubing, and other gear to each other and your water supply if you're using or installing a drip irrigation system to save water and benefit your plants.
A large assortment of drip irrigation adapters, connections, and fittings make it secure and straightforward to connect your system. Whether you're looking for an irrigation hose connector, PVC-to-irrigation tubing, or something else entirely, you'll find that the market offers numerous choices of sizes and types to suit your needs.
Drippers
Drip emitters use the main pipe to send water to your crops. For crops that aren't close to the main water line, emitters can be designed or punched directly to the mainline or placed into the end of a piece of 1/4″ tubing. When your crops aren't equally spaced, this is the most practical way to water them.
Tubing
Tubes and drip lines are the lifeblood of an irrigation system, transporting vital nutrients to the plants that rely on them. Specialty suppliers offer an extensive range of drip lines, hoses, and irrigation tubing. Drip irrigation hose and tubing for everything from the typical DIY yard setup to more extensive commercial vineyards and farms.
Any drip irrigation system's foundation is polyethylene tubing. Water is transported from your supply to your crops via poly tubing. Emitters, drip lines, sprayers, and sprinklers subsequently discharge the water. With the use of a punch, emitters can be physically put into the poly mainline pipe. A larger diameter poly tube is extruded into an object and coiled and supplied as hoses.
The usage of oval hoses as a low-pressure supply line or a header line for drip tape rows. IPS is a flexible and robust hose that can be bonded into standard PVC fittings. This tube is commonly used in vineyards to link underground water mains to fruit fields and to join automated valves to tubing or PVC. However, it is not appropriate for relentless pressure though.
Dripline and Drip Tape
For years, professional farmers and backyard growers alike have relied on drip tape. It's a cost-effective and efficient way to water long, straight rows of crops. Drip tape can be used above ground, mulched, or buried.
Drip tape is a pipeline that has a dripper built into it. It's a thin-walled tube, not a structural pipe, with a typical wall thickness of 0.2mm (8mil). Typically employed in market gardens or rows of crops, this is a seasonal product. The tape is a low-pressure, low-flow device with emitters equally placed throughout the tubing.
In this industry, dripline and drip tape are frequently interchanged. Both are essentially the same thing, with drip emitters equally spaced and integrated into the pipe. However, the materials and applications are vastly diverse.
Drip tape is a thin-walled tube/pipe that lies flat when applied and expands only when filled with water. Dripline is a rigid, structured pipe comparable to the lateral line. Drip tape is a thin-walled pipeline having a wall thickness of 0.15mm, 0.2mm, or 0.3mm in widespread use. Dripline, on the other hand, typically has a wall thickness of 0.9mm to 1.2mm.
Fertilizer Injector
Fertilizer injectors are the most economical way of feeding plants if you have a drip-feed delivery system. Fertilizer added to irrigation system goods sends nutrients to the roots of the plants in liquid form. In contrast to traditional fertilizing methods, little or no fertilizer is lost on the way down. Fertilizer injectors are a convenient and precise way to feed a large greenhouse, nursery, landscape, and garden
During crop production, fertilizer injectors apply water-soluble fertilizers, insecticides, plant growth regulators, wetting agents, and mineral acids. They're an essential feature of any contemporary greenhouse or nursery. Growers have had a simple time and labor-saving method of administering liquid chemical solutions to their crops since the invention of injectors or proportioners. Despite the benefits, many producers have had at least one encounter with a crop that has been affected, damaged, or even ruined due to a defective injector. Proper and frequent maintenance and adjustment, just like with other mechanical devices, are critical elements in ensuring optimal injector function and, hence, healthy crops.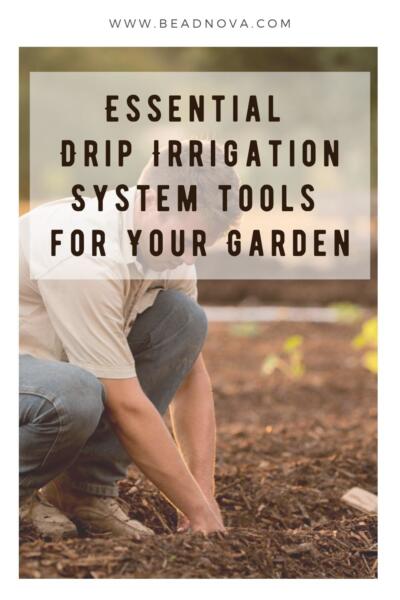 More articles about gardening you may interested:
7 Essential Gardening Tools for Beginners
5 Reasons That You Should Make a Drip Irrigation System for Your Garden
4 Ways to Water Your Plants While You're Away on Vacation
How to Clean and Remove Rust from Garden Tools?
8 Care Tips to Keep Your Indoor Potted Plant Healthy and Alive