As an Amazon Associate, we may earn commissions from qualifying purchases from Amazon.com.
Know more
.
What Is Leverback Earring?
Earrings manufactured with a hinged wire or a Leverback have been observed in jewelry markets since the 1880s.
The Leverback, a staple and classic European design in jewelry, has just made its way to the North American market. Because of its low profile, solid construction, and added protection, it is increasingly becoming a choice of men and women. But, let's not forget that anyone can wear earrings now.
Beautiful Leverback earrings are no longer in the exclusive domain of women. Anyone can enjoy beautiful jewelry.
Because the Leverback's basic construction prevents the sudden or unexpected loss of the earring, this earring type is famous for expensive and exquisite jewelry in both silver and gold.
The Leverback is always made to clamp tightly over the wire without irritation to the wearer while being comfortable to use.
The Leverback comes in various forms, some with attached or dangling ornaments, some with single preset stones, and still others with both.
Others have loops for drops and dangles, pegs for settings with pearls that have been half-drilled, and beads, or unfilled settings for faceted gemstones and cabochons.
Due to the thickness of the Leverback earring's construction, it is a secure and substantially more comfortable earring style. It is indeed great for higher-end designs due to its higher per-item cost.
Find more our earring findings
Leverback Earring Benefits
Leverback earrings are best known for providing style, comfort, and security to their wearers.
Comfort
The pointy tips of some hook earrings typically irritate the area behind the earlobes. In the case of Leverback earrings, they are entirely closed, so there are no sharp edges near your delicate ears and any part of the neck area.
The backs of Leverback earrings are also rounded. The rounded structure makes them pleasant to wear. So, whether the wearer is lying down, getting groomed or shampooed, or running, they're going to remain comfortable. Try a pair of Leverback earrings if you find other styles of earrings to be annoying or even painful to wear.
Style
When buying any jewelry, style is likely the biggest significant factor for most buyers. Wearing different accessories and jewelry is all about projecting your particular style and individuality.
Stylish earrings with a Leverback are pretty fashionable. The most common are hoop earrings, gemstone, diamond drop earrings, and hoop earrings with this clasp design. With Leverback clasps, you can find a whole new world of attractive earrings. Leverback earrings usually hang just below the earlobe. They naturally move and sway with every stride. These earrings also naturally capture the light at any angle. Look for fashionable Leverback earrings to pair with formal dresses, gowns, weekday outfits, and jeans.
Security
When you wear Leverback earrings, they typically will dangle. This is because they have an enclosed loop, too. Drop earrings, on the other hand, tend to sag or move precariously while on hooks.
You can buy pricey earrings with a Leverback style with added confidence, knowing that this type of earring will not simply fall off and become lost without your knowledge.
Leverback earrings are a fantastic choice if you want to wear your earrings for several days at a time or while participating in sports like swimming. These earrings won't fall out of your ears in the pool, in bed, or on the soccer field.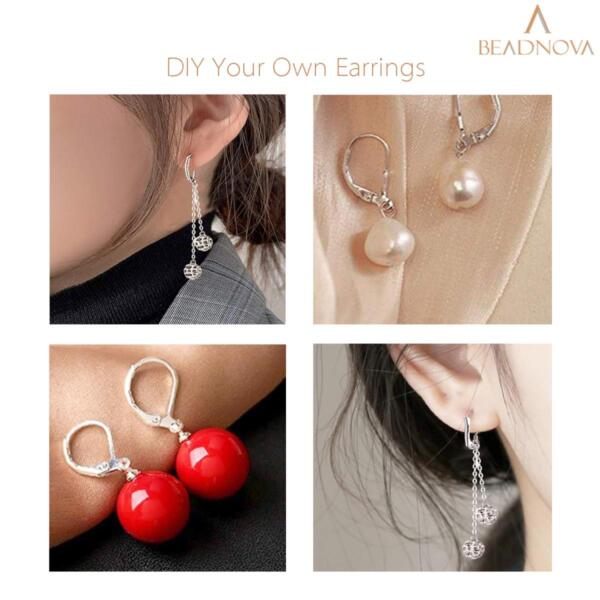 Shop our lever back earring hooks  to create your own dangle earrings.
French Wires vs. Leverbacks 
Which One Is Better for Dangle Earring?

Ear wire earring settings come in various shapes and sizes, from simple shepherd hooks to more sophisticated v-wires and u-shaped hoops. French hooks are another name for these earring-making components. But, unfortunately, the term has nothing to do with the country of origin.
French hooks aren't actually from France; the moniker is akin to "french fries." However, because they are inexpensive and adaptable, earwires are the most used type of findings in designing different earrings and associated jewelry.
The French wire is a fine coil of silver or gold-filled wire. It is also called the bullion or gimp and is used by jewelers to conceal beading wire adjacent to crimps and clasps. French wire, according to proponents, gives jewelry an attractive, professional finish while also strengthening and protecting ends of the beadwork.
The French wire is typically preferred by hobbyists who dabble in beads and do-it-yourself jewelry projects in the crafting world.
Making your earrings can be enjoyable and rewarding, whether you want to wear them yourself, give them as a gift, or sell them. There are several earring findings to choose from to create simple, quick, and fashionable earrings!
Pry open the hook and attach the different components. Proceed to shut the loop to use a French hook. Next, open the loop like a jump ring, making sure that you twist the ends apart rather than making them oval. You can use a loop or jump ring on the dangle if the earwire has been soldered.
But then again, there's the big question – which findings work best?
Do you pick the Leverback, which has had a great run since the 1800s?
Or do you instead work with the classical French hook or French wire?
The answer depends on what you are crafting at the moment.
If you are crafting a lightweight pair of earrings with inexpensive but attractive materials, the best option would be the French wire because the crafting will be more accessible, and the results will be just as beautiful as any other approach to finish the project. However, if the earring has more expensive settings, you would be better off with a higher quality Leverback.
Everyday dangle earrings that come with a bent hook that runs through one's ears are French wire earrings. The back of the hook is open, allowing the earring to stay or sit on the earlobe, minus the need for an earring back.
French wires are widely known and favored for being inexpensive and straightforward findings. However, their design makes it easy to lose an earring. In addition, while some individuals wear them with real earring backs, these are not universally compatible with all earring backs, and many types require a rubber earring back to work correctly.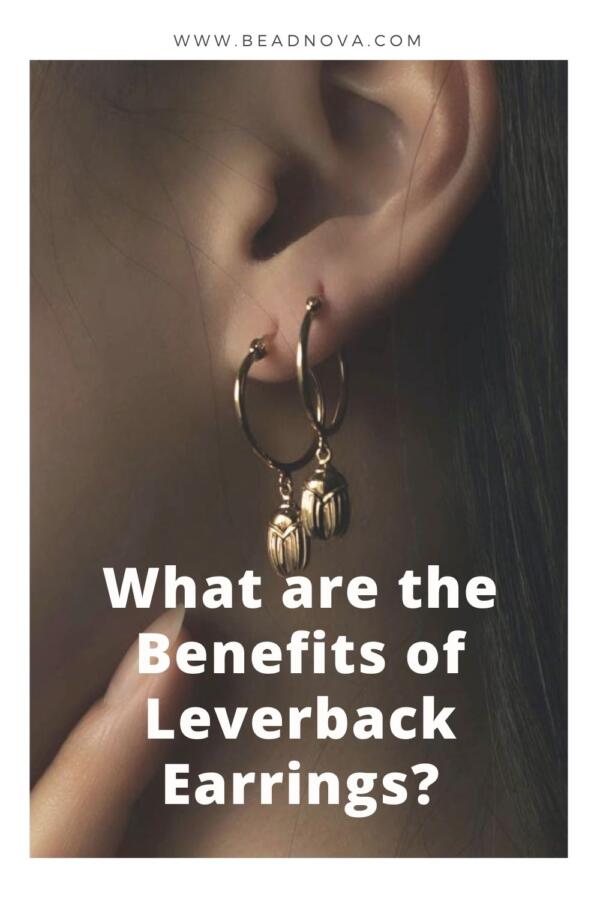 More articles about earring backs  you may interest:
Great Silicone Earring Backs For Your Earrings
How Many Types of Earring Backs?
How Do You Get A Stuck Earring Back Off?
How to Remove Plastic Discs from Your Earring Backs?
Best Way on How to Clean Earring Backs? All Backing Applied