As an Amazon Associate, we may earn commissions from qualifying purchases from Amazon.com.
Know more
.
Knowing how to clean Butterfly earring backs
, sterling silver earring backs, 14k gold earring backs, and rubber earring backs are essential if you want to keep your earring collection clean and pristine through the years. This is imperative, for instance, if you want to pass on your earrings to your kids after a few years.
If you wear your earrings every day, chances are, the earrings and the earring backs will have plenty of "ear cheese", gunk, and dirt on them. The process of accumulation will be slow, and you barely notice the earring backs getting the dirt because they're so small, unless you routinely look at them with a magnifying glass or another magnifying optic.
It is highly recommended that you clean your earrings and earring backs every few months to keep them hygienic and safe to use.
Cleaning Common Earring Backs – Stainless Steel and Rubber Backs
Stainless steel earring backs like butterfly earring backs and rubber bullet clutch earring backs do not require special considerations while being cleaned, so you can clean them with different cleaning agents without damaging them.
The most common cleaning agent used for cleaning earrings and earring backs is hydrogen peroxide. Hydrogen peroxide is a disinfectant, and in its pure form, is adequate in removing a lot of gunk and dirt from different surfaces, including non-reactive metals like stainless steel and other common metals.
Rubber bullet clutch earring backs and butterfly earring backs are the most common earring backs. So you likely have several pairs in your possession that are just waiting to be cleaned so they will look brand new again.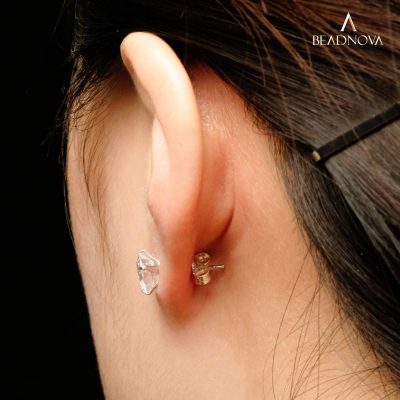 General method for cleaning common earring backs
1. Prepare cleaning agents – ammonia / hydrogen peroxide
We love soaking earrings and earring backs to get most of the muck out before we start scouring. Get a small bowl or plastic container where you can soak the earring backs. Fill the container to about the halfway mark before adding your choice of cleaner.We recommend using either ammonia or hydrogen peroxide. Both cleaning agents are good choices for cleaning common earring backs.
Use hydrogen peroxide pure if the earrings you are going to clean are old or have never been cleaned before.
For pure ammonia, make sure that you wear gloves first and use 2-3 ounces per US cup of water. Do not use them if you are cleaning silver, gold, or any other precious metal as these cleaners may be too potent and may cause damage to the metal.
The reminder applies if your earrings have porous gemstones on them (but then again, we're just cleaning the earring backs at the moment).
To buy: Ammonia – Amazon.com
2. Soak the earring backs for 15 to 20 minutes. 
If the earring backs have never been cleaned, soak all the earring backs for a full hour before brush them. Then, you should be able to see some of the muck emanating from the metal or rubber.
Can you use toothpaste to clean jewelry?
Yes, toothpaste is an adequate solution for cleaning common jewelry that can be used for frequently cleaning of jewelry. It is not so potent that it will strip any pigments or layers on any jewelry. Brushing jewelry should not take so long, especially if the metal jewelry has already been soaked for 15 to 20 minutes.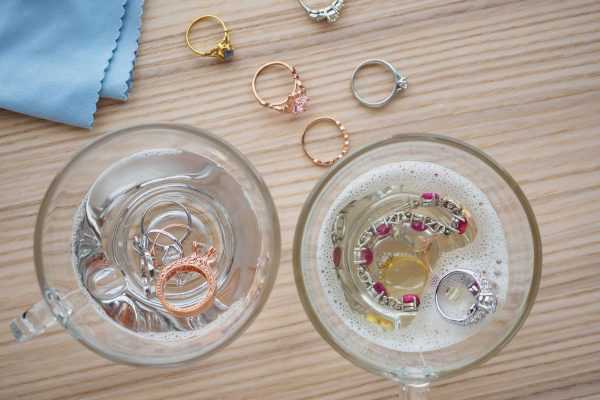 3. Brush the earring backs to clean the dirt
After soaking, get a soft-bristled toothbrush and start cleaning the earring backs. It will be easy to clean the larger parts of the earring backs. If you still find some grime and ear cheese inside the crannies, you can use a toothpick to push out it.
4. Soak the earring backs with warm water and then let them air-dry
When you are done cleaning or brushing the earring backs, soak them in warm water or open the tap (warm tap) to remove the residue of the hydrogen peroxide or ammonia. After soaking and rinsing them, place them on top of tissue paper to let the earring backs dry. Let everything air-dry for about 60 minutes before checking again if they're dry enough to be brought back to storage.
Cleaning Silver and Gold Earring Backs
If you need to clean fancy jewelry like sterling silver earring backs and 14k gold earring backs, you need to avoid the hydrogen peroxide or ammonia because these are not recommended for precious metals. So what you need to do is to clean your earring backs with a mild detergent or dish soap instead.
Steps to clean silver and gold earring backs
Get a plastic container and fill it with about one US cup of warm water. Add 3 to 4 drops of the

mildest dish soap

you can get your hands on, and stir with your finger. When the dish soap solution is ready, place all your silver and gold earring backs in the plastic container.
Soak the earring backs for about 20 minutes, before using a toothbrush (soft-bristled) and very gently clean the earring backs. Be extra careful to clean the precious metals jewelry like gold because it can easily take damage.

Again, if you see any ear cheese or gunk that you can't reach with the toothbrush, just use a toothpick to pick out the gunk. This is better than using a more potent solution for removing dirt and ear cheese from the small earring backs.
After clean the earring backs thoroughly, simply remove them from the plastic container and rinse them with warm water. Air-dry all of the earring backs and you're ready to bring them back to their jewelry boxes.
More post you may interest:
Why Do Earring Backs Smell Bad and How to Avoid?
What Are The Best Earring Backs?
How Do You Get A Stuck Earring Back Off?
Can You Use Hydrogen Peroxide to Clean Jewelry?