As an Amazon Associate, we may earn commissions from qualifying purchases from Amazon.com.
Know more
.
Jewelry wires are variants of wire made of metals with different elasticities used in making necklaces, pendants, bracelets, brooch, among others. The choice of wire depends on the actual preferences of the jewelry makers—although soft metals are suggested for beginners. More delicate wires will provide flexibility and easier access to straighten your wire. Straightening your jewelry wire would require specialized materials like nylon-jawed wire straightener and should be included in your toolbox.
Wires are arranged according to their gauge, with the thicker wire ranging on 6-14 gauge and thinner wire running on 15-32 gauge.
20-gauge wires are recommended for jewelry-making beginners. It provides enough weight to create designs for bangle and cuff-type bracelets. This multipurpose wire is also durable enough to hold the weight of common materials like beads, stones and crystals. It can also be sturdy enough to hold its shape, making it durable for handmade chains, jump rings, eye pins, and lightweight clasps.
How to Straighten a Wire?
Before you find out how to straighten wire, you need to identify your material's hardness, shapes, and sizes. Identifying the material used for your crafting will provide insider access for you to measure the capacities of your wire, reducing the chance of overworking your wire. Overstretching your wire will bend your material, breaking your hard-earned creation.
Wire hardness
Wire hardness depends on the material you are using. As of this writing, there are three known variants of wire, namely: dead soft, half-hard, and full-hard.
Dead soft wires are delicate materials and can be bent using your hands. This wire type is also easy to straighten, but extra caution and precision are required to prevent excess tension to your wire. This material is used to create intricate designs and wire-sculpted jewelry.
Half-hard wires are slightly more rigid than the dead soft variants since they required a draw plate to pull through. Draw plate is a jewelry tool made with metal or polyester with variants of holes used to bend wires with lesser strain on the hand. This tool can only work on half-hard wires.
Full-hard wires are more inflexible, durable materials that require more strength to work with. Draw plate can still be used, although it needs to be passed several more times to work.
Wire shapes
Although wires are commonly cylindrical, there are also existing distinctive wire shapes. This adds to the overall aesthetic value of the jewelry. Other figures include square, half-round, and rectangular wires. Despite its uncanny figures, this material can still fit through standard wire gaps easily.
Wire-wrapped style jewelry suggests using a lot of square and half-round wire variants. This shape provides the volume and structure needed for several wires.
Wire sizes
In the United States, AWG (American Wire Gauge) is the standard measurement use to arrange the wire sizes. European countries measure their wire gauge in the form of millimeters. This cannot be very clear since AWG responds inversely proportional to the actual size. The thicker the wire in millimeters, the smaller AWG gauge it corresponds.
26 gauge and 24 gauge wires measure 0.4 to 0.5 millimeters in thickness. This wire is suitable for beads with small holes. Using a half-hard hardness, you can use this material to make chain jewelry like bead and wire chains.
22 gauge and 21 gauge wires measure 0.65 to 0.71 millimeters in thickness. This material is the standard size since it can fit on most beads, stones, and crystals. You can also create intricate designs like ear wires, headpins, and other decorative intricates.
20 gauge wires measure 0.8 millimeters in thickness. This is enough to create durable clasps. Using dead-soft hardness provides the optimal hardness to work this wire efficiently.
How to Straighten Wire from Roll?
As mentioned earlier, straightening wire will require a nylon-jawed wire straightener. This material looks like pliers but with flat nylon, jaws placed on both sides. This material is essential to remove the wire's curvature from its long curling from the spool. Periodically, these nylon jaws must be replaced as soon as the cables began to provide small notches. Notches will limit on how to straighten wire from roll, making it harder to work with.
Straightening your wires will save you a lot of cost on raw materials. Wires should go straight enough for the beads and other materials to work cohesively to your design. Spending sufficient knowledge of working your wire will prevent you from throwing bent wire scraps—which can accumulate in the long run. The half-feet worth of jewelry wire is enough to create a simple brooch or pendant.
While working on your beaded wire project, you might notice that your bead will start to tangle on its own, making it hard to work it. Do not panic about this. Tangling wires are standard and will occur while you are doing your wire project. Use your fingers to straightening workable bumps.
If your fingers cannot tend more delicate wire bumps, grasp your wire using your non-dominant hand. Insert your nylon-jawed pliers few inches from the wire where you've placed your fingers. Grasp the wire firmly.
Slowly, allow the nylon-jawed pliers to glide into the wire. Hold unto it firmly, pressing it enough to move across the wire. For dead-soft hardness, one glide is enough to straighten it. Other wires require multiple repetitions for them to work.
Grip the wires tightly as you make your way on straightening your wires. Watch how the wire straightened itself out as you're doing it.
After finishing the already straight wire section, you may move back to the area that requires more straightening. Repeat the process until you've worked unto the entire length of wire.
This method will also work on wire remains, reducing the scraps for your jewelry project. A half-foot-long chunk is enough to create an essential brooch, pendant, and décor—reducing the waste materials.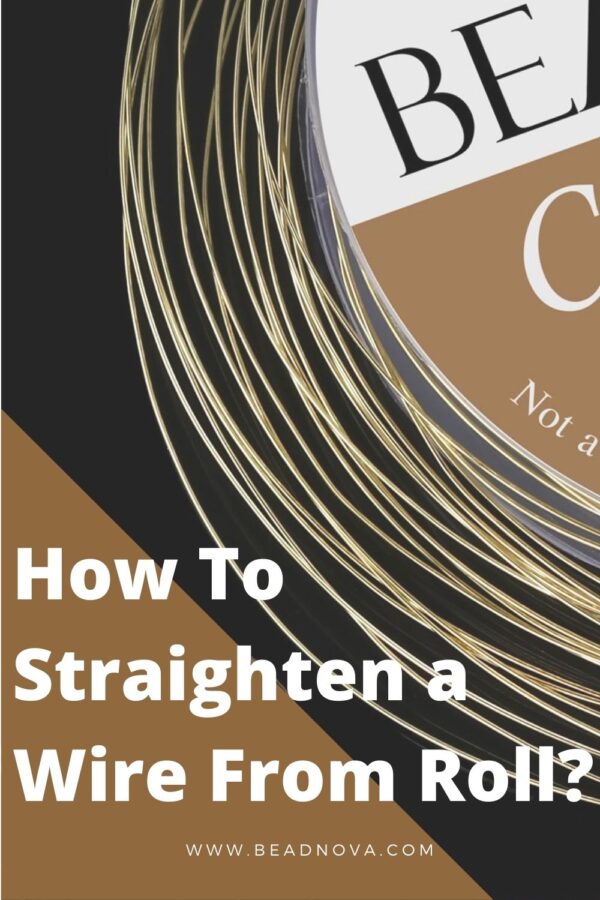 More articles about tips for jewelry making beginner:
How to Choose the Right Wire for Jewelry Making?
Wire Wrapping Tips for Jewelry Making Beginners
8 Essential Tools For Wire Wrapping For Beginners
How to Measure the Hardness of Jewelry Wire?
Guide for Beginners: How To Use Jump Rings?