As an Amazon Associate, we may earn commissions from qualifying purchases from Amazon.com.
Know more
.
A crystal candle foremost can be a wonderful and thoughtful gift for any occasion, and there is no limit as to how creatively you can create one at home.
How to make a crystal candle?
Crystal candles can be made in a tub candle holder, and you can use an assortment of crystals to achieve either a visual or mystical effect. As you may already know, crystals are believed to have magical power and physical healing benefits. They can easily be created at home with simple craft supplies, hand tools, and crystals.
You can use both precious stones and semiprecious stones. If you lack any ideas and need to give a gift soon, you can match the crystals in the crystal candle with the recipient's birthstone. Either way, you are going to enjoy crafting one at home.
Is It Safe to Put Crystals in Candles?
Generally speaking, yes, it is safe to put crystals and candles. Crystals have high melting points, and the mere flame of a wick will not crack or damage any crystal.
Small flames also pose zero risks in releasing any toxins or gases into your home. This truly means you can keep using the same crystals repeatedly until you are ready to try another mix of crystals with different healing properties or mystical functions.
What Do You Need for Healing Candle Making?
1. A wide-mouthed vessel– used to hold the candle. If you have specialty candle holders at home, those can be used, too. But if you have an old bowl that still looks good, don't hesitate to repurpose it. Making DIY crystal items is all about creativity.
2. Soy Wax – We recommend getting at least one pound so you can make more than one candle at a time, and they're cheaper in bulker too.
3. Essential Oils – Be sure to check out the properties of the essential oils you are buying and their purity. Essential oils with higher purity will produce better smells and will last longer, too. If you are combining essential oils, consult a book on aromatherapy so you can get the perfect oil combination. Remember that these oils will burn alongside the wax, releasing the healing properties into the air.
4. Crystals– If you have a wide bowl or vessel for the candle, you need at least a handful of crystals so you can spread them across the bowl or plate.
5. Candle Wicks –  If you have a horizontal vessel with plenty of room to spare, you need at least three wicks. If you only have a small candle holder, one wick will suffice.
6. Microwave Oven – for melting the soy wax
7. Blow-dryer – for designing the candle later on.
DIY Crystal Candle Step by Step
Measure a small quantity of soy wax and place it in a microwave-safe bowl. Microwave for a minute until the wax becomes completely liquid. Be sure to use heat pads when handling the bowl because boiling wax is boiling. When the wax has cooled for just a minute, you can add 30 drops of your favorite essential oil or essential oil mix into the container.
Pour the melted wax into your candle holder. If you have an elongated container, pour across to create an even layer. Add the wicks and make them equidistant from each other. Allow the wax to harden a little.
Check the level of wax in the container. Did the wax reach at least the midpoint of the height of the candle's vessel? If not, measure an amount of soy wax again and melt it in the microwave. Transfer and pour again until the wax reaches the desired level. Make sure that you leave the tips of the wicks visible.
Now for the fun part: designing the candle! Get your hair blower and melt parts of your candle so you can begin inserting the crystals. The order can be random, or if you want to have a mini-grid of sorts, you can do that too.
You can sink the crystals deeply into the candle, or you can pour another round of soy wax into the last batch. Allow the wax to harden completely, and you are done.
What Crystals Can You Put in Candles?
Virtually any energy-healing crystal can be placed in a crystal candle. Below are some ideas:
Protection Crystal Candle
For protection, nothing beats obsidian or black quartz. These crystals are heavily used for gridding work, and they can banish both negative entities and negative energies. Combine with lavender essential oil for relaxation.
Self-Love Crystal Candle
For all things related to love, use rose quartz. Rose quartz is the most powerful of all known love crystals, and it connects you to the House of Venus, too.
Pair this candle with refreshing ylang-ylang essential oil.
Calming Crystal Candle
For a more relaxed and calmer environment, use amethyst. This healing crystal also has the added benefit of helping people recover from alcoholism.
Add lavender oil to relax better.
Wealth Crystal Candle
To attract wealth and abundance, add Citrine. Peppermint oil will complete the abundance formula.
How to Use a Healing Crystal Candle?
How to use a crystal candle for healing?
Crystals can be used for healing in various ways, from creative visualization and meditation to placing crystals on the chakras. Crystals can also be used to heal and relax the body if they are placed nearby.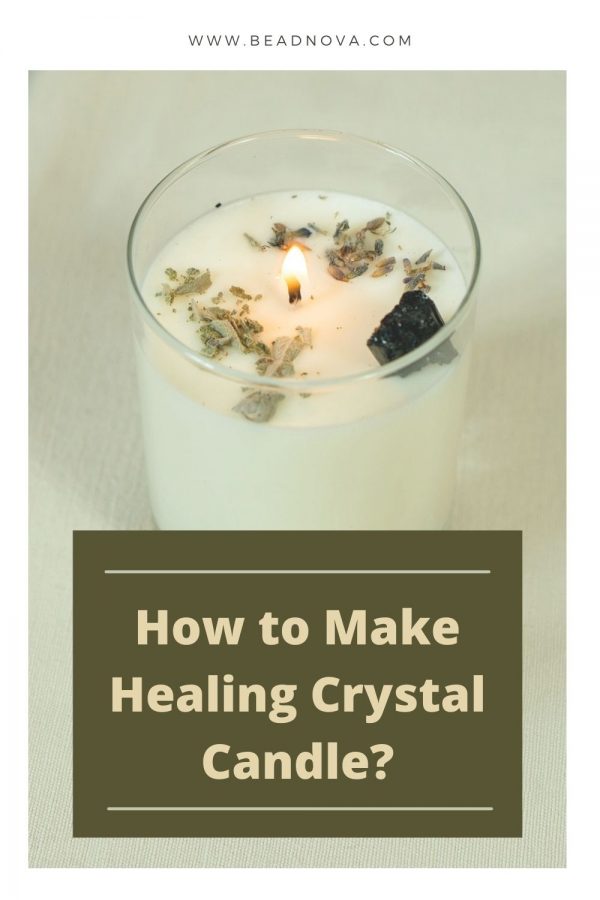 More articles about candle making:
How to Make a Candle Burn Evenly?
How To Make Candle Smell Stronger?