As an Amazon Associate, we may earn commissions from qualifying purchases from Amazon.com.
Know more
.
Stretch bracelets, rings, and necklaces can certainly be done at home with ease. You can also use your excellent crafting skills to create your DIY jewelry brand in mere days. To create your elastic pieces of jewelry, you first need to identify your materials. Beads, crystals, gems, charms, and pendants can be used alternatively to your jewelry.
The next thing to consider is the types of stretch cord for your project. Elastic cord strength will provide the necessary adjustments you create the best cord for your DIY craft.
3 Types of Stretch Cord
As mentioned earlier, your stretch cord will define what kind of material can be placed. Light materials require a stretchier cord that can hold the beads into place. Heavier materials like stones and gems need a heavy-duty type stretch cord with enough elasticity and durability to hold the material's weight.
The three primary types of stretch cord used in craft-making are rubber cord, stretch floss, and polyester cord. These cords are arranged according to the elastic cord strength. Below is the detailed information that you must consider while using the specific type.
1.Rubber cord
The most common type of stretch cord in the market is this rubbery, round, single-strand type. Rubber cord is used to create stretch bracelets for large, heavy beads.
Popular brands like Stretch Magic have manufactured rubber cords of different sizes and colors. The most popular type is the thick, black variant used to bind heavy beads, gems, and crystals into a single cord.
However, the downfall of this stretch cord type is the difficulty it takes to tie a single cord. The best way to prevent the knot from removing is by using a surgeon's knot technique to secure your beads firmly. A surgeon's knot can be effectively used with an elastic cord since it provides the extra pass-through needed to prevent the cord from untying.
2.Stretch floss
Stretch floss is made with multiple strands of different stretchy materials woven together to form a cord. Unlike the rubber cord, stretch floss is available in many sizes: 0.6mm-1.2mm variant. Due to its small size, stretch floss can only be used for small beads and lightweight materials. Using heavy-weight materials will stretch the material further—making it split quickly.
Stretch floss can provide better memory retention than other stretch cord types. Memory retention occurs on several pliable materials to return to their original form after being pulled away. This phenomenon also occurs when paper clips are bend and placed in hot water.
3.Polyester cord
Polyester cord is made with various materials covering an elastic core. This elastic core (made with polyester) is twinned with other materials with different colors and styles. Sparkles and metallics are also added, which gives additional design to your stretch cord.
Due to its durability, a polyester cord is commonly used for hair accessories and heavy-weight chokers and bracelets. If you want to tie larger beads, using a polyester cord is highly suggested.
The only downturn for this material is its bulky knot. If you don't mind having a bulky end, you may consider using this. Placing a cloth or ribbon piece can hide the bulk quickly, but it will leave a wide gap.
Picking the Right Cord
Elastic jewelry (or stretch jewelry) is a convenient, stylish, and versatile choice of accessories. Men and women can wear it; since it could be transformed using different materials that fit any personality. This material's only downside is this tendency to snap eventually, causing the beads to scatter everywhere.
There are several reasons why elastic jewelry breaks. Listed below are some instances that can shatter your jewelry into pieces.
Getting snagged on a surface
Knots are already loose
Jewelry is worn out due to everyday use
Exposure to heat, humidity, and other environmental factors
To prevent your elastic cord from breaking, select the best stretch cord for your jewelry. The quality of the string will define the long-term durability of your jewelry. This will not provide the lifetime quality of the cord since elastics are worn out through time. However, this will give better avenues to prolong the usage of your favorite stretchy ornaments.
High-grade polymer string is good for creating a long-lasting string for your rings, bracelets, and necklaces. Made from durable material, this string is available in various sizes and used by professional crafters and beaders.
The optimal thickness for your string is 1 millimeters thick—the standard hole size for most beads and crystals. Selecting the type of material could also determine the durability of your crafted jewelry. Heavier materials like stones, gems, and metals might require polyester cords.
How to Avoid Elastic Cord from Breaking?
Creating your stretch bead jewelry will open avenues of new styles for this eternal fashion trend. Besides selecting the materials used for beading, identifying the elastic cord will make this project successful.
Nowadays, the market offers elastic cords with an array of thickness, material, and color. The most popular type is the standard 1 millimeter elastic cord that can fit on any holes.
However, new crafters have a hard time preventing their elastic cord from breaking. Listed below are some of the tips you might consider to prolong the durability of your cord.
Do not use thin elastic cords. Thinner materials provide weaker elasticity which can break the jewelry quickly.
Do not use crimp beads. Crimp beads are metal beads that can be crimped using pliers to secure clasps and beads into place. Using this on an elastic material will cut the cord due to friction.
Stretch your cord before stringing beads. This will provide the right allocation for the beads, and it will not leave gaps after the cord is stretched.
Create the right-sized jewelry. Wear your beads before placing the final knots to ensure that it snugs perfectly to your wrist, finger, or neck.
Tie your bracelet with knots that provide tension. Surgeon's knot is the optimal knot for elastic jewelry since it provides an extra knot.
Do not overstretch your material. Overstretching the material will wear out your elastic cord quickly.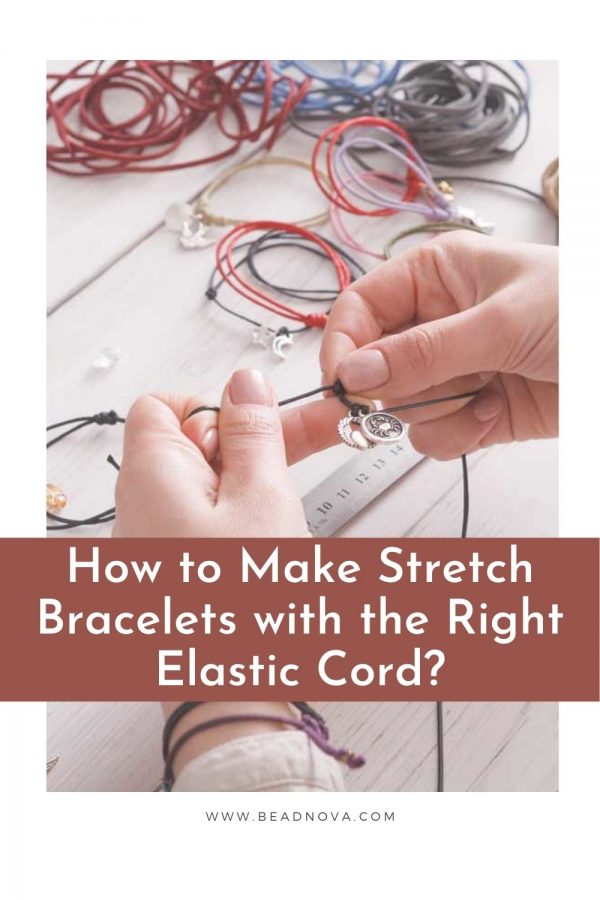 More articles you may interest:
What Does It Mean When Your Crystal Bracelet Breaks?
Why Your Elastic Stretch Bracelets Break?
How to Make Seed Beads Bracelets?
How to Measure a Right Size Of Bracelet From Your Wrist?