As an Amazon Associate, we may earn commissions from qualifying purchases from Amazon.com.
Know more
.
The use of safety pins is often limited for a quick fix of a ripped seam, damaged hem, and missing buttons. Safety pin DIY focuses on utilizing the mechanical wonders of a safety pin.
Safety pins can be used for machines. It can also be associated with high fashion.
Recently, the AMBUSH brand released their expensive lists of safety pin jewelry. Made with pure precious metals like gold and silver, these safety pin bracelets can cost from $800 to $1000. It is paired with other high fashion brands like Balenciaga, BOSS, and Maison. These are high-end safety pins for the ultimate collectors.
However, for today's discussion, you can use any old safety pin you have at home.
Utilize the pack of safety pins you have on your craft station using these smart hacks and DIY ideas to transform your sewing companion to its best capacity.
Create 40 of the best safety pins uses that you could never imagine.
1.Safety pin organizer
Organize your items by tying a piece of used cloth or linen to your specific items. Secure it tightly with a safety pin. Using safety pins to fasten garters works, too.
2.Safety pin buttons
Create your buttons with the use of safety pins. You may use it plain or attach beads, strings, and another décor. Personalize your buttons quickly.
3.Safety pin zipper
This also works when you have a broken zipper handle.
4.Safety pin bracelet
Attach strings of safety pins until it forms a bracelet. You may place strings, beads, and other decorative elements on your jewelry.
5.Safety pin necklace
Continue attaching safety pins until it is long enough to form a choker necklace or long-length necklace.
6.DIY keychain
Use your imagination in creating your keychain. Create your design by using craft materials. Yarns and woven strings work well as handles.
7.DIY plate hangers
Add a creative element to your kitchen by gluing small decorative plates on a safety pin.
8.DIY fishing hook
You may hook your worm bait using the pointed side of your large safety pin.
9.DIY brooch
Create your fancy brooch by using old pendants, dried flowers, broken crystals, pearls, and other materials.
10.DIY piercing
Before using, make sure that your pin is sanitized with alcohol and sterilized in boiling water for 10 minutes.
11.High-fashion jewelry
Grab a lovely piece of pearl or crystal jewelry and attach golden safety pins. You may also paint your safety pins for more color and versatility.
12.High-fashion clothing
Tear off your old dress and reattach it by placing large safety pins. Paint or decorate your safety pins if necessary.
13.Place necktie into place
You may "fake" the actual necktie by securing your tie with a safety pin.
14.Place cloth patches
If you don't have enough sewing skills to fix your blankets and covers, you may patch through safety pins.
15.Anti-static material
Place large safety pins on the bottom part of your pants. This will prevent you from receiving static current.
16.Splinter remover
Place few sterilized safety pins in your first aid kit to capably remove splinters.
17.Scarf holder
Secure your scarf into place by pinning 2-3 pieces of small safety pins.
18.Bra strap holder
Prevent your bra staff from falling by placing safety pins on both sides of the bra.
19.Decorate shoes
Add a unique flare of aesthetics to your shoes by placing large safety pins. It can be painted, studded with beads, or covered with glitter if necessary.
20.Secure curtains
Prevent the curtains from closing by placing large-sized safety pins on your curtains.
21.Holds food pockets
Place your food pockets into place by sorting them on a large safety pin. You may clip your food on a piece of clothing or linen for easy sorting.
22.Anti-pickpocket device
Prevent your wallet from pickpocketers by placing a pin in between your wallet and pocket.
23.Utilizes sachets efficiently
Prick holes to your sachets and samplers to utilize all the contents of your product. This works on plastic bottles and containers, too.
24.Clear dirt buildup
Remove hard-to-reach dirt from your devices or equipment effectively.
25.Remove food leftovers
Prevent food contamination by clearing the tight gaps of your squeezer and presser with safety pins.
26.Cake decorator
Prick colors and tints to your cakes for a dramatic effect. You may also swirl your icing to produce personalized decorations.
27.Nail art design
Use the pointed side of the safety pin to draw your detailed designs.
28.Self-defense utensil
Use large safety pins to prick the attacker. It may also work on public areas or establishments that do not allow sharp objects like knives.
29.Rethread garters and ropes
Return your garters and ropes effectively by attaching one end into a large safety pin.
30.Replace broken buttons
Pull out your safety pin from your back to replace buttons quickly.
31.Replace broken zippers
Recreate the handles of your zippers by using your safety pins.
32.Replace broken pendant locks
Reuse your broken pendant locks again by gluing a safety pin at the back of your old pendant.
33.Keeps socks in place
Prevent missing a piece of socks by placing a single safety pin on each pair.
34.Guitar pick replacement
Prevent your fingers from straining by alternatively using a safety pin.
35.Dog leash and collar
Create fashionable dog leash and collars. You may decorate your safety pin chain with cloth, ribbons, pearls, and beads to fit your pet's personality.
36.Cat toy
Have a great time with your pet by attaching strings, beads, and small bells to the safety pin before attaching your yarn and stick.
37.Temporary clothespin
If all of your clothespins are used in your large laundry, you may alternatively use large safety pins to secure your clothing.
38.Prevent covers from falling off
Secure your chair covers into place by attaching safety pins to your sofa. This also works to prevent your table runners from falling.
39.Christmas tree décor
Use your old Christmas tree décor, or utilize your craft materials. Attach ribbons, beads, glitters, paint, photographs, and other materials that fit your yuletide ambiance.

For privacy reasons YouTube needs your permission to be loaded. For more details, please see our
Privacy Policy
.
I Accept
40.Prank material
Make fun with your friends by creating safety pin pranks. Attach a safety pin near a water-filled balloon and watch your friend's reaction.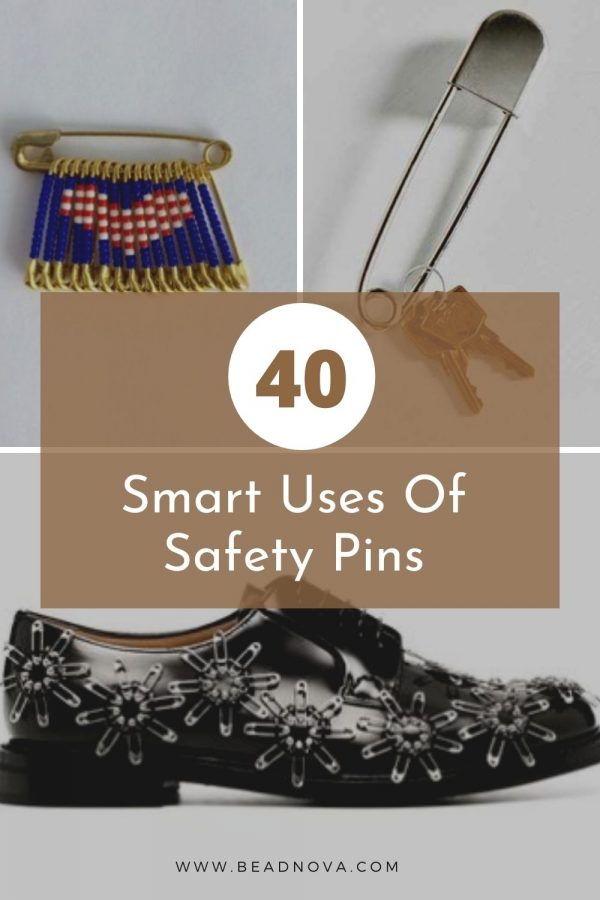 More articles about safety pin you may interest
Why Do Punks Wear Safety Pins?