As an Amazon Associate, we may earn commissions from qualifying purchases from Amazon.com.
Know more
.
Elastic bracelets are fun to wear, and they're the best for DIY crafting projects. However, the downside to using stretching or elastic cord is they tend to break easily. It's fun creating the bracelets, but we also want them to last longer. How exactly can we do this?
Why Stretch Bracelets Break?
There are many possible reasons why stretch bracelets tend to break easily after wearing them.
Reason 1: It Depends On How You Put Them On
The most common trigger for breaking stretch bracelets is how you put them on. The elastic material is already carrying the beads, so there's already a lot of tension between the material itself and the knot that keeps the beads from flying off your wrist.
Normally, people create a triangle shape with the bead bracelet and then slide their hands in the middle to wear the bracelet. This is not the best way to wear stretch bracelets because the triangle method of wearing the bracelets puts undue stress on the knots.
A stretch bracelet often wears away at the knot, with one side of the cord slipping away from the knot. Wear the bracelet as if you were wearing a watch.
Slide your hand in and allow the elastic material to accommodate your hand and wrist. They're called elastics for a reason, so there's no need to stretch it too much.
Reason 2: Elastic Breakage
The second most common cause of elastic breakage is that the wearer wears the elastic bracelet for too many hours each day. Sweat is fine for elastic cords, but not much else.
If you wear your bracelets no matter what you are doing, then it's likely that you are already exposing your elastic cords to chemicals that are wearing down the cord.
Stuff like dishwashing soap, chlorine from the pool, and too much salt from the ocean – these chemicals can easily wear down cotton and polyester cords. So word to the wise – if you are going to shower, wash dishes, handle household cleaning agents, take off all your bracelets.
This reminder applies to DIY elastic bracelets and all kinds of jewelry made of different materials. Should you have expensive rings and bracelets with stone settings, these should be as far away as possible from soap and other chemicals. It's best not to risk it at all.
Reason 3: Because Of Crimp Beads
The third most common reason for bracelets that break easily is crimp beads. Crimp beads are made of metal, and anything cotton or synthetic that comes into contact with metal and there's stress around the attachment will eventually break away. Our recommendation here is to avoid buying elastic bracelets with crimp beads, as these will eventually wear down ahead of time.
Reason 4: Cord Wasn't Pre-stretched Before Stringing
The fourth most common reason for elastic cords breaking easily is the cord wasn't pre-stretched before stringing. This should be an important reminder for people who make DIY crafts at home. If you like using elastic cords for your necklaces, chokers, and bracelets, you need to pre-stretch the cable when you pull them from the reels.
The reason for this is we want you to be able to enjoy cords that won't break easily because the material has been warmed up or prepared to bear the load and to bear the load while in motion.
Additionally, pre-stretched cords will not snap back to their original length after a time. Elastic cords have physical memory, so they will attempt to go back to their original dimensions because their physical structure is used to that dimension.
Pre-stretching eliminates this problem by causing the elastic cord's physical dimensions to change and accommodate the additional load.
Reason 5: You Can See Where The Maker Tied the Elastic Cord
This doesn't occur to many people, but we are telling you right now: if you buy an elastic bracelet and you know exactly where the maker tied the elastic cord, then there is a big chance that the bracelet will not hold for a long time.
The best commercial elastic bracelets have knots that have been glued together and then slid inside one of the beads. The glue hardens inside the barrel of the bead and provides extra durability and tension to the cord. The simple gluing act keeps the elastic cord together longer because glue doesn't react to salts and moisture that much unless the cord itself becomes too soaked in liquids.
Reason 5: Mechanical Issues
And finally, there could be mechanical issues with the elastic cord even before you start wearing the elastic bracelet. There is a type of elastic cord called the floss elastic that is known for fraying quickly. We are not saying that you shouldn't wear anything that has been made with floss elastic, but you should set your expectations when you are aware that this was the choice of elastic cord instead of something more durable, like elastic cotton cords.
How to Make Stretch Bracelets That Don't Break?
If you want to use larger and heavier beads, it doesn't make sense to use the thinnest elastic cords you can find. Sure, the cord may look fine when you make the bracelet for the first time, but how will the cord hold up after a few weeks? Use appropriately-sized cords, and you are going to get excellent results.
If you are making a bracelet at home, avoid crimp beads at all costs. They're going to shorten the lifespan of your bracelets considerably. Learn and apply the surgeon's knot in all your bead projects because it's the most reliable knot for crafting. Learn different types of jewelry-making knots.
Check the size of your wrist versus the bracelet you are making. The bracelet should not be too tight, as the extra stretching that lasts for hours will eventually wear down the material or the knot and send your beads flying away. Learn how to measure the right size of a bracelet from your wrist.
Learn how to knot properly, and make sure that each knot has been tightened from both sides. Don't just pull on one side; pull from both ends, and give the knot a good tug to see if nothing slides out.
Whenever possible, cover your knots and apply glue to harden and make the knots more durable.
Shop our jewelry findings to DIY your elastic stretch bracelet.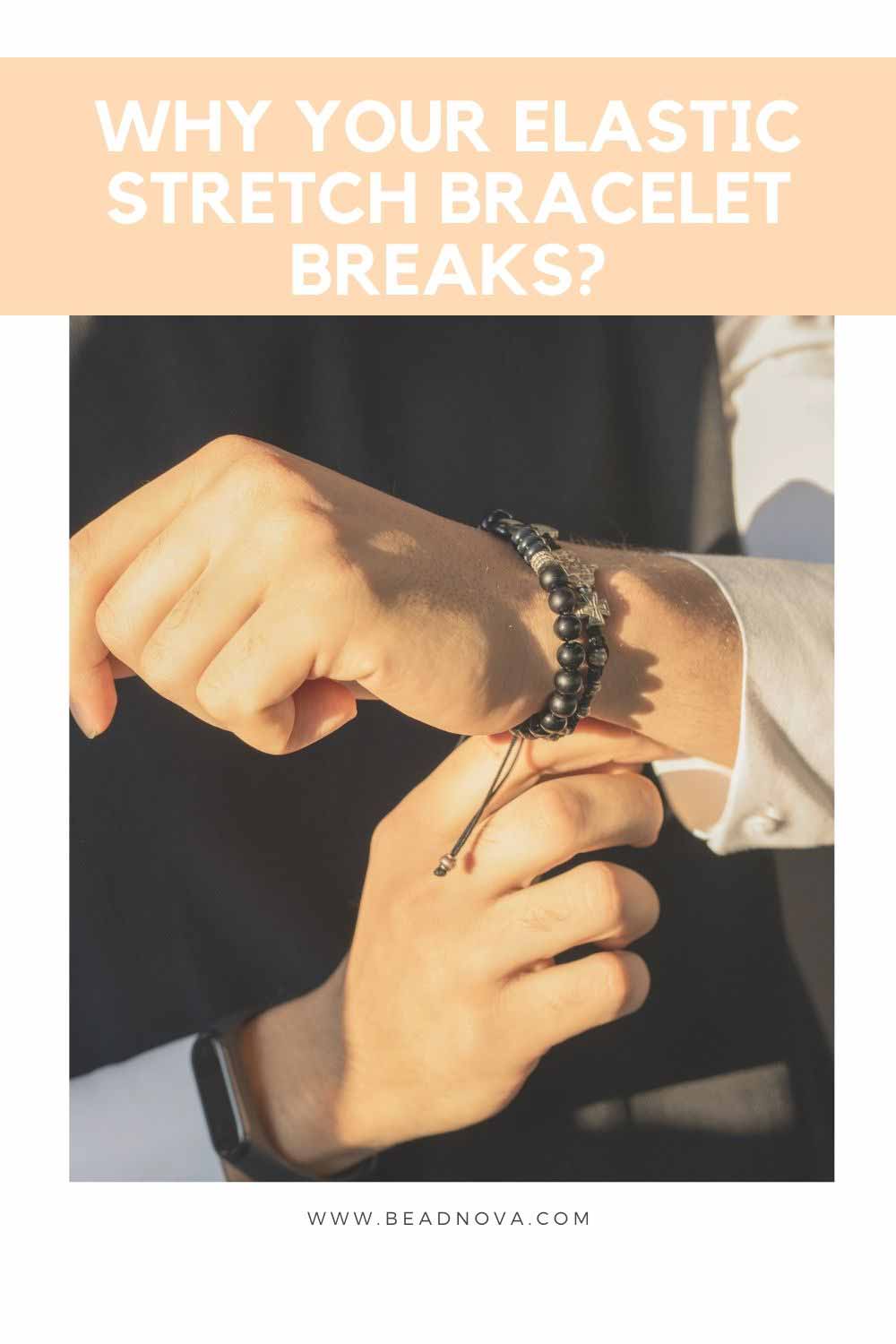 More articles you may interest:
What Does It Mean When Your Crystal Bracelet Breaks?
How To Choose Stretch Cord For Your Bracelet?
3 Easiest Friendship Bracelet DIY Ideas: Chevron, Letters & Beads Bracelets