As an Amazon Associate, we may earn commissions from qualifying purchases from Amazon.com.
Know more
.
Among the thousand fashion trends that emerge every year and vanish in no time, the craze for earrings is constant for as long as one can remember. The right choice of an elegant pair of earrings on your earbuds can totally set the stage on fire.
Given the consequences the world is currently facing, all of us do not have any other alternative but to cover our faces. This has led to earrings becoming one of the most significant styling elements of our lives. If not face at least we can glorify our ears and up to our style game. 
You just need to know the trick to style the right earrings for the right occasion. Confused where to seek that guide? Continue reading is all you have to do to know about the styling tricks that will gain you a bunch of flattering comments.
Here are the 12 styling tricks that will up your earrings game:
Simple Flat Studs never Disappoint
For anyone who loves silver, simple flat studs can be an everyday wear for college, university, or workplace. Alternatively, these can be worn as the second or third tier earring if you have multiple piercings in your ear lobes. They will look exceptionally well paired with a chandelier or water drop earring. 
You can get this in black or gold as well. Neon shades are quite in vogue too. 
Come Out of the Shell with Pearl Earrings
Pearls are the daintiest, most loved earrings you can ever find to get a gorgeous look. The natural piece is a perfect blend of grace and beauty. Though women generally wore pearl earrings on festivities or weddings earlier, with all credits to newfangled designs you can now wear pearls to any and every occasion. 
When you have to rush to the office, go for a minimal look with a small one and if you are to go to a party, a silver-plated pearl earring will be perfect.
Steal the Show with Gemstones
If the diamond is the duke of gems then Sapphire can be given the title of a duchess. The first thing that comes to mind talking of sapphires is Princess Diana. How magnificent she looked wearing those blue sapphire earrings embedded on diamonds matching with the famous engagement ring on her wedding?
Every woman desires to be the attraction of the party, we believe you are not an exception. Then the trick simply is a hypnotizing blue sapphire encompassed with diamond earrings. Gemstones like sapphires are also known for their healing properties, which is a great bonus of owning them.
The Precedence of Personalization
Are you a boss lady in search of a stunning statement earrings design? You should definitely consider the personalized one, that is, the one with your name studded as the design of the earring. It portrays your primacy towards yourself and the name you hold. 
They are available in numerous types of materials and designs. If you are a perfectionist, collecting the hoop and the stud earrings with your name personalized will be worth it.
Nouveau with Neon Earrings
The current craze and the color of the season is neon. If you want to raise your earring game in the 21st century, then you ought to wear a pair of peppy neon earrings. Though instead of a pair you can also sport a single earring and let the other earlobe hide in your hair.
Sounds great is it not? Be it new year's eve or a casual photoshoot with your BFFs, this neon earring will make you the most enticing one.
Shine like a Chandelier
The chandelier earrings are for weighty earring lovers. Cute and pretty studs are fine, but when there is a grand ceremony you are to attend sporting a minimal yet exquisite look is the perfect sophistication. A chandelier earring is what you should be wearing at those events. 
A huge variation of the type can be found. We suggest either an all-diamond earring or a diamond with a rose gold shade. A pearl and diamond combined piece would look intricate too.
Bohemian Handcrafted Earrings
Wearing a bohemian handcrafted beaded earring will make you look straight out of a fashion magazine cover. The delicate yet vibrant earring design has a high spirit and can make you feel confident as soon as you put it on. 
You can wear it for your office, for a weekend party and even at your own birthday party. Make sure to dress simple when paired with the earring to strike a balance in between. 
Slay with Front Back Earrings
You must be well acquainted with the front-back earring and have definitely seen celebrities dazzle in it on the red carpet. This design is highly recommended as it will make an unconventional choice, for earrings generally are worn the opposite way, unlike this particular one. 
More styling tricks: High neck dresses and tops will go very well with this earring. 
Huggie Earrings for the Working Mother
As the name suggests, the Huggie earrings fully hug your earlobes making you comfortable and keeping you away from the worry of losing the earring. For a working mother, it is certainly difficult at times to manage both primary priorities and fashion sense simultaneously. This is the perfect one for them.
In case you miss wearing hoops or feel annoyed with its extensions hitting your face repetitively whale working, huggie earrings can suffice to a great extent 
The Flawless Threader Earrings
The threader earrings are identical to a thread designed in the shape of artistically gorgeous jewelry. This earring hangs on your like a loose thread and hence appears both from your front and rear side of the ear. For every woman belonging to every occupation, there is a threader design available.
The wide range of variation comes second only to its eccentric looks. Extremely comfortable and lightweight, you can wear it to any place of your convenience. 
Go Offbeat with Climber Earrings
One of the most trending earring designs of the decade is the climber earrings. All credit goes to its unique design that goes the opposite direction of what usually earrings are seen as. It climbs towards the top of the ear beginning from the piercing of the earlobe instead of hanging from it. 
This distinctive earring will surely create an offbeat look and will be sufficient to add elegance to your personality. The dress you should pair it with shall depend on the design of the earring.
Clip-on Backs for a Phenomenal Look
Are you the kind of person who admires dandy looks and wants to have several earrings on your ear but is afraid to pierce? Well, clip-on backs are your savior then. The clip-on back earrings are designed to clasp your ears without requiring a piercing on them.
So, now when you want to sport a street style or maybe popstar look you can simply put on your clip-on back earrings and you will be good to rock on. Anybody can wear it even your 2 months old toddler because of its clip-on feature.
Additional Points about Earrings Styling Tricks
Take care of them

: Nothing lasts when you fail to pay their deserved worth. So, make sure you do not only buy earrings but also clean and sterilize them before and after wearing them.

Flaunt your individuality

: Like everybody else, you have your own style sense and your likings and disliking. Do not ever hide in the urge to join the crowd. Flaunt your unique individuality. Style your earrings and dresses the way you like not the way people like you to be. 

Avoid overloading

: If you feel comfortable wearing lightweight earrings than the heavy ones, make sure you go with the light ones only. It is better to be a minimal style statement than to have a swollen ear.
Hope these styling tricks and tips will be of your use to get a unique and stylish fashion statement with your earrings game on point.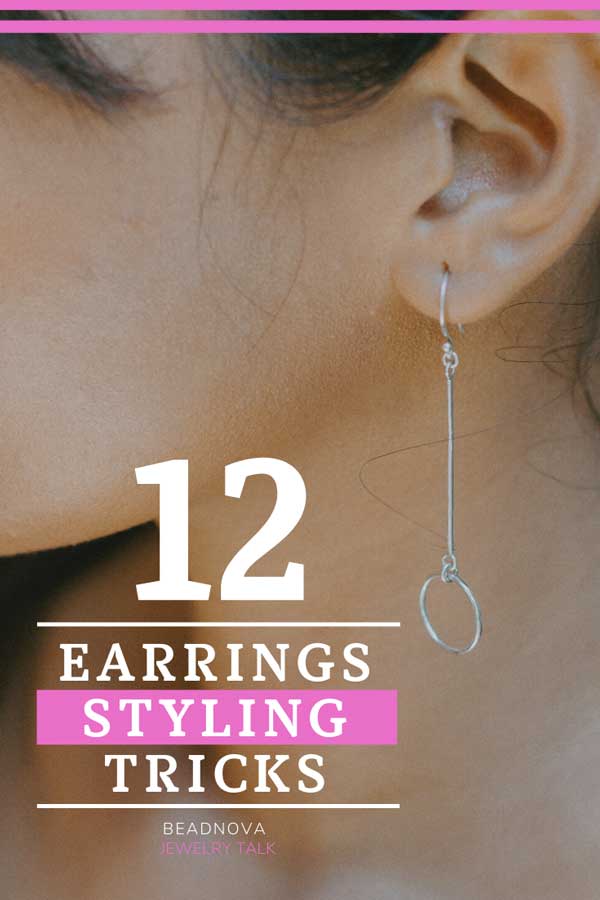 Writer's Bio:

Ruby is the beauty editor at Cosmopolitan, where she covers beauty across print and digital. Her work has appeared on The Zoe Report, Fashionista, and StyleCaster.
READ MORE about Aftercare for Earrings Accessories
Why Do Earring Backs Smell Bad and How to Avoid?
Painless Ways for Getting A Stuck Earring Back Off