As an Amazon Associate, we may earn commissions from qualifying purchases from Amazon.com.
Know more
.
There has always been this lingering question about cufflinks: Can cufflinks be worn even with informal attires? And the answer is yes, you may! It depends on what kind of cufflinks you have. If you have cufflinks made of precious metal, for instance, then that won't make a lot of sense if you're wearing a plain shirt and a pair of Timberland boots. However, it might work if you wear cool, casual cufflinks, like a pair of Star Wars cufflinks. Here is our style guide on cufflinks.
Beadnova's Cufflinks Style Guide
1. Gold or Silver Cufflinks
Tiffany luxury cufflinks are topnotch, and these are perfect for formal attire. Nothing makes French cuffs dressier than 18-karat gold cuff links. Tiffany & Co. creates a variety of styles of cufflinks from the Makers Rectangular variety to the knot-type cufflink. The knot-type cufflink (all of their cufflinks are available in sterling silver and gold) is reversible.
Reversible cufflinks have two heads that are nearly the same in size, and they can be worn easily without checking, which sits on top and sits on the bottom. The rectangular variety is excellent for more formal events because of its solid build and smooth top design. The bar-type cufflink is also formal and has a great minimalistic look for people who don't want to appear too flashy with their jewelry.
All of Tiffany & Co.'s cufflinks look amazing informal settings. If you need something that looks more casual, we recommend getting the knot-type or reversible cufflink as this is the most casual looking of their current collection. The heads of the reversible cufflink are also small enough to be concealed easily if you feel a little self-conscious wearing a cufflink. Of course, all of these cufflinks can be used for regular shirts and dressier French cuffing shirts.
2. Antique Cufflinks
Swank cufflinks are vintage cufflinks that are now considered collectibles or antiques. If you are a genuine antique lover and a lover of cufflinks, those two interests coalesce with Swank cufflinks. Swank cufflinks can be purchased online, usually through websites like eBay and Etsy.
Other sellers may also be distributing limited stocks depending on availability. Genuine Swank cufflinks are usually made of real gold, so if you happen to score a pair for a good price, hang on to them, because they will be valued a lot more in the coming years.
What's interesting about these vintage cufflinks is you never truly know what you are going to unearth from other collectors and sellers. Some of them are regular bar-type cufflinks, while others, of course, look the part of chain-type cufflinks with a large and ornate head (usually with a gem) and gold locking bar. Whatever you may find in your diggings, you will love how they look on your best suits and shirts.
3. Engraved Cufflinks
No matter they are engraved with your initials, your wedding anniversary date, or even your secret login password, engraved cufflinks can reflect your personality in a sharp way. Compared to the high-class look of high society cufflinks, engraved cufflinks are youthful, casual, and joyous to the eyes. The heads of engraved cufflinks are smooth because they are designed for engraving.
So whether you are interested in something that is rounder, or more rectangular, you can still engrave a word or name on top. We love the fact that they are now manufacturing heart-shaped cufflinks and other more youthful shapes as these truly open up the tradition of wearing cufflinks to the next generation. We certainly don't want wearing cufflinks to be left behind, because it truly makes men spiffier and handsome with such little effort. 
4. Gemstone Cufflinks
Semi-precious stones are often set on gemstone cufflinks. Though more expensive cufflinks exist, you will find a wide variety of more affordable gem cufflinks to invest in more pairs.
If you feel like buying cufflinks with more personality and symbolism, you want to invest more in gemstone cufflinks. The metal structure of gemstone cufflinks remains true to the more traditional appearances, only that the heads are affixed with different semiprecious and precious stones.
Our survey of gemstones cufflinks reveals that different cuts provide a different aura to the pairs of cufflinks. If you want a more bohemian approach to things, we recommend getting "freeform" gemstones that emphasize the natural appearance of semiprecious stones when they are mined. Freeform gems will be rougher on the exterior, but these will have such a personality that it's going to be amazing on any clothing.
If you want something with a professional and vintage look, we recommend getting opal, onyx, aquamarine, and other gems that are cut into cabochons. The cabochon cut is perfect for cufflinks because of their shape and how they sit prettily on top of the cuff.
5. Cool and informal Cufflinks (e.g. Star Wars / Disney Cufflinks)
Contrary to what many would think, Disney themed cufflinks or Star Wars cufflinks are the real deal. Not only nerds would like them but it maybe a wonderful try-on if you want to impress someone. There are different kinds of Disneys or Star Wars cufflinks, so you can certainly match them with your suits, shirts, and even your ties.
If you want something low-key, we recommend the round Star Wars cufflinks with the Jedi order symbol. There are also steampunk-inspired Star Wars cufflinks that remind us of the tech age of R2D2. For those who want a deeper reference to the franchise, we highly recommend getting Death Star cufflinks or any other spaceship inspired pair. There are also plenty of Storm Trooper cufflinks that have precise replicas of the Death Trooper helmet.
You can have some Yoda and C3PO goodness while looking dashing in your shirt for those with specific character preferences. With all of the great choices available, there is no doubt that you can complete your look with cool cufflinks to look more youthful.
Summary
Whether you want more sophisticated cufflinks with precious stones and precious metals or cool cufflinks with the Death Star in tow, there's always something awesome waiting for true blue cufflinks lovers.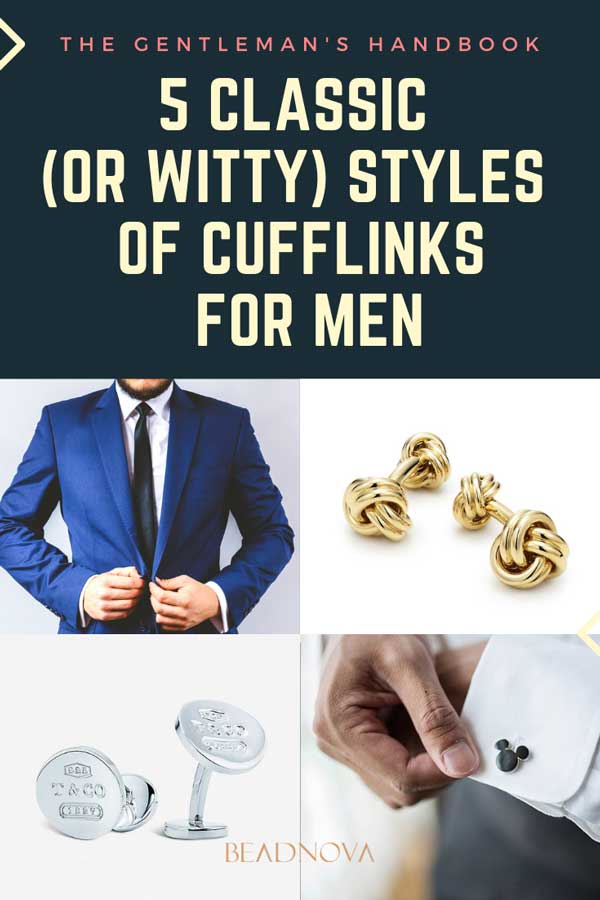 RELATED READING: Tips on Choosing the Right Tie Clip