As an Amazon Associate, we may earn commissions from qualifying purchases from Amazon.com.
Know more
.
Face Mask holder, or sometime called mask keeper,  mask storage clip. This is a new but very essential kit to have after COVID-19 outbreak. This article will let you know how to make your own DIY portable face mask keeper/holder with very simple tools and materials. Also, some DO's and DONT's when you are using it.
What is a face mask keeper/holder?
Face mask keeper is a portable case which stores your mark in a short time when sometime you need to remove your mask for a short while, e.g. while you're dining.  It is light-weighted and foldable into a small size so you can store your disposable medical face mask in the holder to your pocket, backpack, handbag or any other places.
Why do we need it to keep our face mask?
With the widespread community transmission of COVID-19, surgical masks are in short supply. Reusing a surgical mask is not ideal. Unfortunately facing the large demand of a global scale, if we do it properly, we can help preserve available masks to professionals who really in need. Using a mask holder is also a wise way not just saving your spending on disposable mask but also reducing environmental impact to our earth because of disposable face masks discarded during the epidemic.
Can we DIY our own facemask keeper?
Sure you can, and it is quick and easy to make. If you are on board using and DIY mask holder, here is a tutorial we share.
Face mask keeper/holder pattern and folding template – adult mask (download pdf file here)
Click to enlarge the image
Materials
Only one material is needed – a plastic sheet that is slightly bigger than your mask, around 190mm x 120mm. I cut mine from file folder.
Tools
Marker
Ruler
Cutter or scissors
Time
You can make one in 5 minutes. Sounds easy right?
Step-by-Step Guide on DIY facemask keeper
Here is the easy guide on how to make face mask keeper for normal plastic file holder.
Step 1: Mark on a plastic sheet size 190mm x 120mm. Cut it out using a cutter or scissors.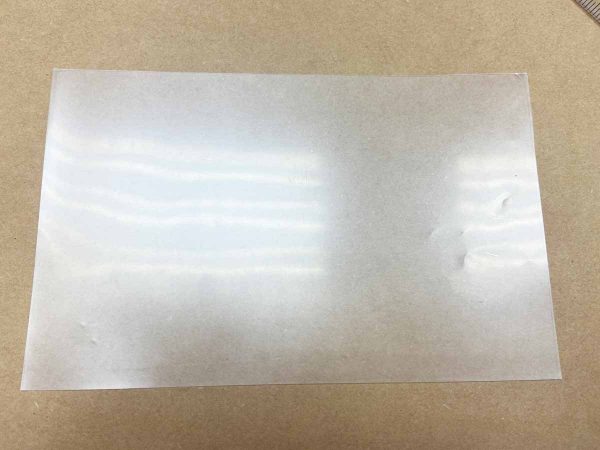 Step 2: Fold the rectangle sheet in half, short side to short side. Apply pressure for a solid fold.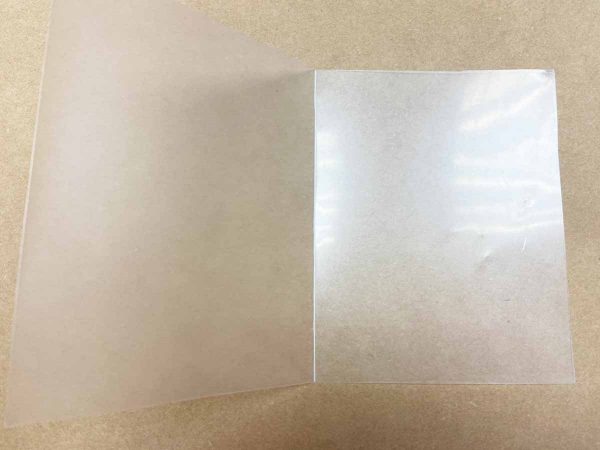 Step 3: Unfold the sheet. Fold the rectangle sheet in half, long side to long side, leaving 10mm gap from the top.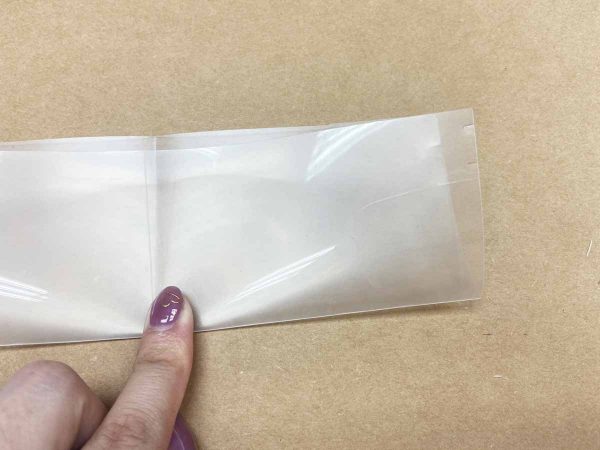 Step 4: Keep the sheet folded, cut a triangular 15mm from top side. Repeat the same on another side.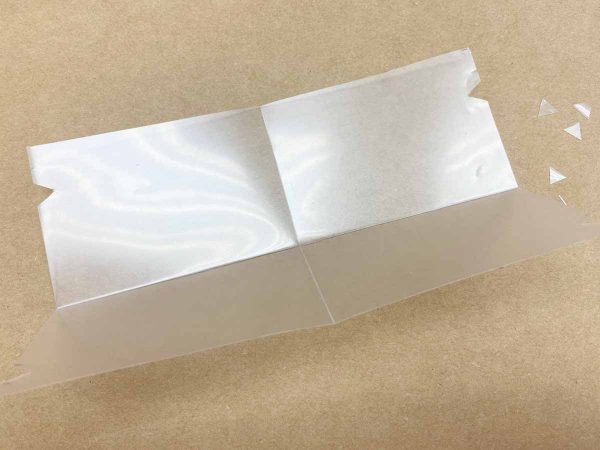 Step 5: Unfold the sheet, at the bottom part cut out a rectangular of 55mm x 10mm in the middle.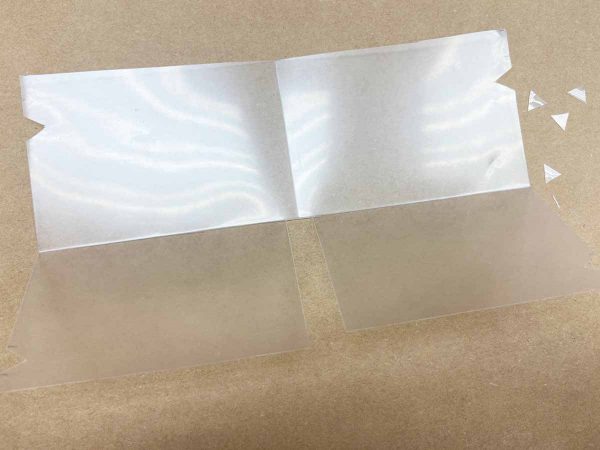 Complete!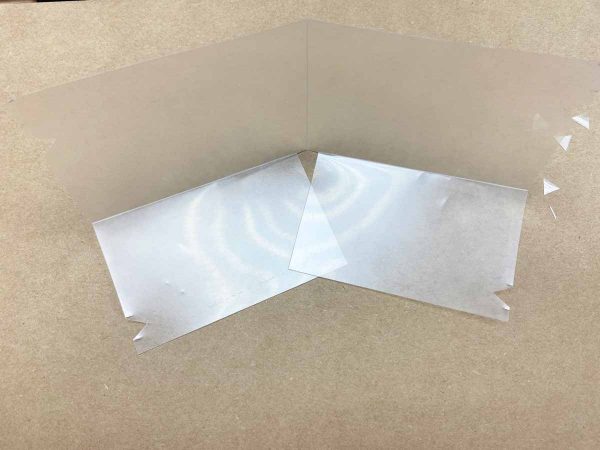 How to use a mask keeper properly?
Step 1 – Place the mask outfacing side to mask keeper with nose strip on the upper half. Don't mix up the side.
Step 2 – Hold the mask together with the keeper, fold the lower flips up.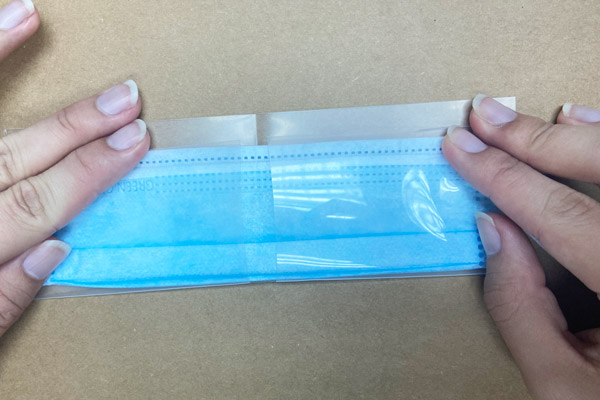 Step 3 – Fold short sides together.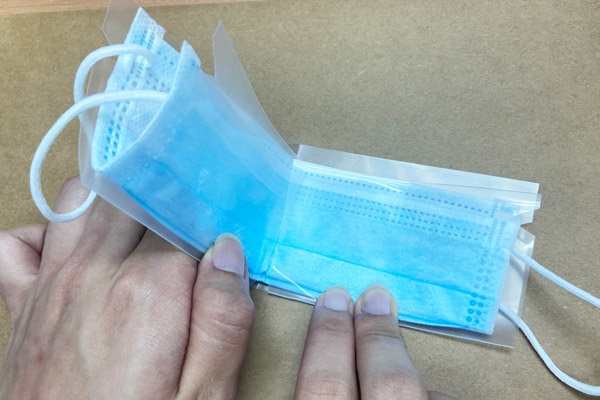 Step 4 – Pull ear loops to the opposite side and tight the mask keeper.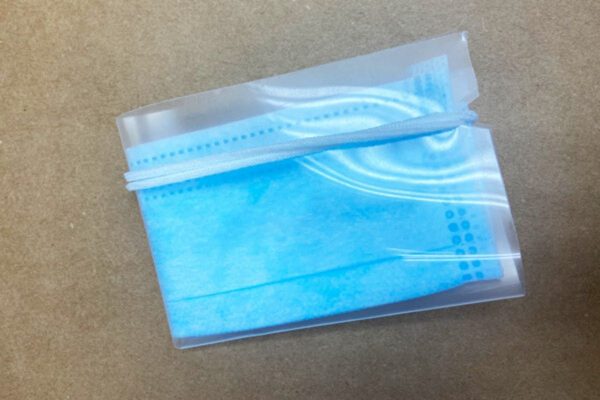 Here is a good video demo showing how we can store our mask temporarily in a mask holder/storage clip/case.
What kind of mask it can store?
Mask holder is designed to store disposable pleated surgical mask
The design is simple but clever, unfortunately it DOES NOT WORK for any style of olson mask, N95 masks, cloth masks, sponge masks, dust masks or gas masks.
Sanitize before use
Clean your mask holder with sanitizer spray
and let dry before use again.
Generally sanitizer sprays available in pharmacy are good enough to use for cleaning mask keeper. You can also DIY hospital grade sanitizer spray according to the formula from The Institute of Personal Care Science.
For privacy reasons YouTube needs your permission to be loaded. For more details, please see our
Privacy Policy
.
I Accept
What are the DOS and DON'TS?
A few things we should always follow when using a mask keeper
Wash your hands before you take a mask off and after you take it off
When you safely take a mask off, put it between two layers of tissue or paper towel to dry out from whatever moisture it collected
Store the mask in a keeper to minimize the chance getting polluted. Make sure the face of the mask is facing outside
Wash your hands before you take a reuse mask out from the holder and put it on
Sanitize the keeper both inside and outside regularly
Precaution of using a mask keeper
Use a mask holder without washing or sanitizing your hands, simply way is to use alcohol-based hand gel
Store a mask with too much moisture on it
Store used mask in mask holder for a long time
Store more than one mask
Share your mask keeper
Where can I buy one?
For those who looking for buying mask keeper
instead of DIY, check out these sellers on Amazon.
Can I style my mask holder?
Sure and why not? Be creative, use stickers, marker, color or pattern plastic sheet to give the simple holder a little bit of character.
For privacy reasons YouTube needs your permission to be loaded. For more details, please see our
Privacy Policy
.
I Accept
Hong Kong print design by Bynock Printing
More nice mask keeper designs you may get it from online. Or you simply get it from your very nice plastic folder.
Sources: https://www.qoo10.sg/gmkt.inc/Goods/Goods.aspx?goodscode=677910508
Sources: Maskeeper
Sources: ROSEWARD on Amazon
Lanyard mask holder become one of must-have mask accessories , it can help you keep the mask from getting lost and hold the mask temporarily when you take it off. If you or your kids always lost the face mask, let's diy one. It is also a good craft project doing with kids.  Read more.
More posts related to diy face mask:
Free Printable Face Mask Pattern
DIY Fabric Face Mask Tutorial – 2-layers face mask (with mask pattern)
DIY Face Mask Tutorial – 3 Pleats Surgical Style with Filter Pocket
Other useful resources:
How to make sanitizing hand gel and wash by The Institute of Personal Care Science.